Liquid and dry ingredients produced at Briess are frequently packaged in totes. Totes for liquid ingredients are made of a corrugated support with disposable food grade liner. They offer a convenient way to receive 3,000 pounds of liquid extract or syrup, and can reduce time and waste when emptying the contents into your manufacturing process. Totes for dry ingredients are baffled and made of poly-wove, coated material with four straps for easy moving by forklifts.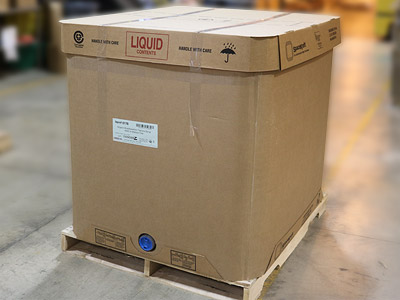 Dry Ingredients
When preparing to receive totes of dry ingredients at your facility, please consider the following:
Total weight is 1,500 or 2,000 pounds of product +/- 250 pounds gross weight which includes the 13-pound tote and 55-pound pallet.
Dimensions are 39″ x 45″ x 62″ tall.
Totes are baffled and made of poly-wove, coated material.
Totes are 100% recyclable and non-returnable.
Totes are equipped with 8″ – 10″ straps on each corner for handling with a fork lift.
Totes have a 14″ spout on the bottom for easy dispensing.
Any doorway that the bag must pass through should be at least 55 inches wide.
The bag and straps are extremely strong. This allows one individual with a forklift or overhead winch to efficiently and safely lift and empty a bag.
Custom weights are available upon request. Minimum orders and lead time apply.
Emptying a Tote
Handling a tote requires a forklift or an overhead winch. Both must be able to lift up to 2,000 pounds safely. The operator slides the lifting straps onto the forklift arms or the winch hooks, lifts the bag off the pallet and centers the bag over the receiving hopper. The operator opens the flap on the bottom of the bag, then pulls down and unties the chute so the product flows out. Bags without chutes are also available. When designing the receiving hopper, we suggest placing a screen with 1/2″ openings in the hopper. This will prevent someone from accidentally getting a hand caught in the auger, the bag from getting into the auger, or any large foreign material from entering the system.
Frequently Asked Questions
Q) How large must my usage be to effectively use Mini Bulk?
A) There is no real size limit. If you use 1,000 pounds per week of a particular ingredient, have sufficient room in a grain handling area, and use of a forklift, then it may benefit you.
Q) Will totes save me money?
A) This needs to be addressed on an individual basis. In addition to ingredient prices, other cost factors at your facility need to be considered such as savings in labor, storage, small bag disposal, etc.
Q) What are the trucking considerations?
A) A total of 21-22 pallets fill a truck. If each bag holds 2,000 pounds, the maximum over-the-road weight will be reached at 21 pallets. If each bag only holds 1,000 pounds, then the per pound freight will be higher.
Q) How much lead time is required?
A) Four to six weeks or more, depending upon the type of ingredient ordered.
Q) Can the bags be double stacked in the warehouse?
A) We do not recommend doing this for safety reasons. Pallet racking is recommended.
---
Liquid Ingredients
Benefits of receiving liquid extracts and syrups in totes:
Eliminate shipping costs associated with returnable totes.
Stack up to three high for storage (not in transit).
Completely recyclable and biodegradable.
Efficient use of storage space over drums or pails.
Tamper evident seal on fill spout.
Tote Specs
3,000-Pounds Net (1,367 kg).
3,150-Pounds Gross (1,429 kg) | 1 tote per pallet.
Corrugated support with disposable food grade liner.
3″ discharge bottom port.
Ball valve available for easy removal of product.
Non-returnable, four-way wooden pallet.
Standard 40″ x 48″ pallet (110 cm x 120 cm).
Stacked pallet height is about 45″ (114 cm).
The outlet of the valve is female 2″ NPT.
Maximum temperature for filling or handling is 178º F.
Handling Liquid Totes
Handling totes requires a forklift which must be able to lift up to 3,200 pounds safely. Please contact Briess for detailed information on the proper handling of liquid totes. In addition to offering you direct support and service, Briess can also help you work directly with the liquid tote vendor for additional information and assistance.
You may also refer to the SpaceKraft® "Buttress Crown Cutter Dispense Instructions" with photos and step-by-step instructions on dispensing your liquid tote.